SHIN YANG SDN BHD. (997865-T) was incorporated on 24th February 1983. It is main harvesting contractor for the Shin Yang Group's Forest Management Unit (FMUs) of Forest Timber License of Planted Forest (LPF). In addition, Shin Yang Groups has number of associated companies that include natural Forest Timber Licences within Sarawak, Malaysia. Current Licenses include:

1. LINAU FOREST MANAGEMENT UNIT (T3228)
2. DANUM FOREST MANAGEMENT UNIT (T3342)

The management of FMU is according to the principles of sustainable development where the sustainable forest management has to keep and maintain the balance between three main pillars: Ecological, Economic and socio-cultural.
(i) SHIN YANG SDN BHD FORESTRY POLICY STATEMENT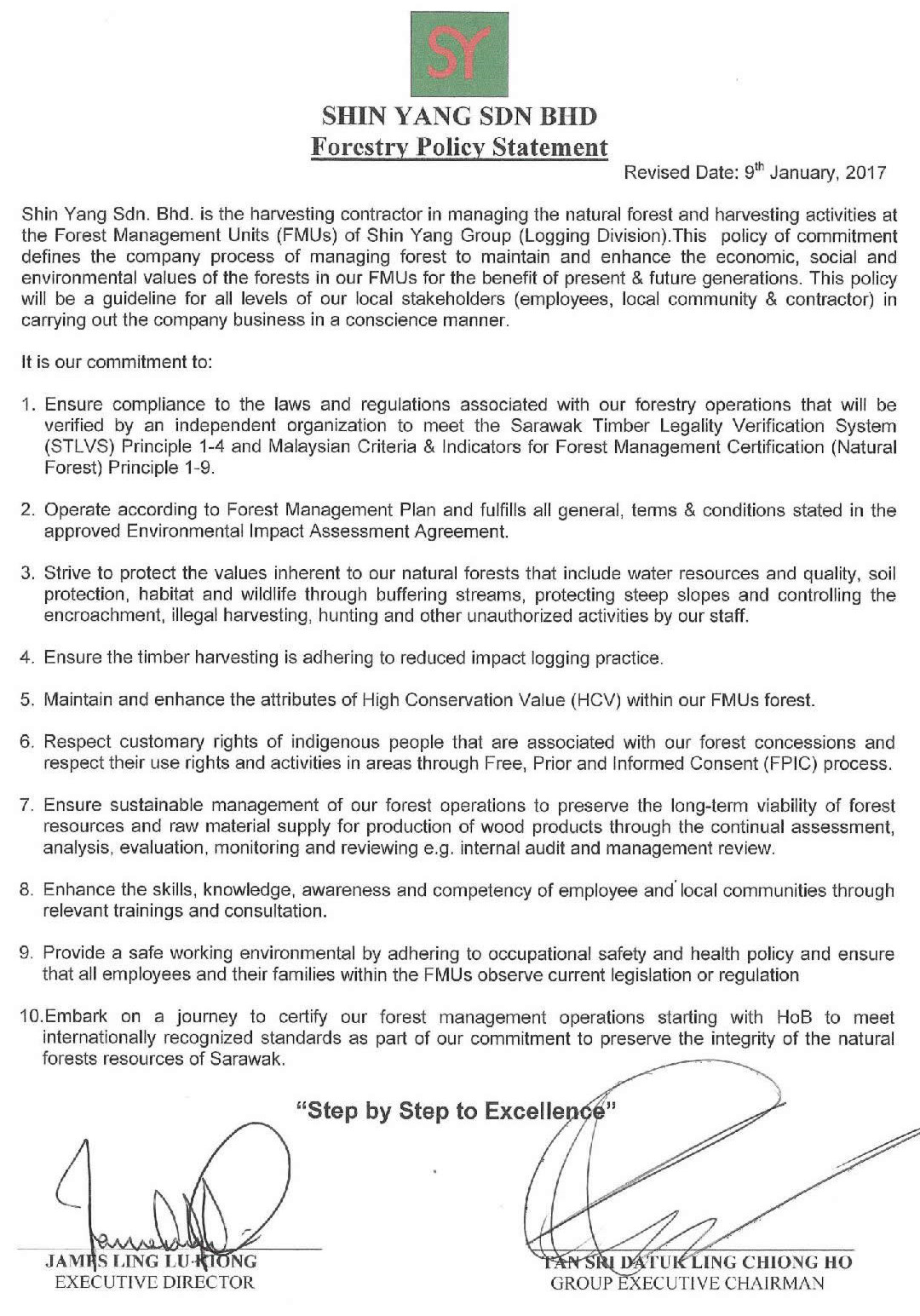 ---
(ii) FOREST MANAGEMENT PLAN
CHAPTER 1: BACKGROUND OF LINAU FMU T-3228
Figure 1: Location of Linau FMU T-3228
1.1. Locality
The Linau Forest Management Unit (FMU) T-3228 covers an area of 72,685 ha, its operable area is 58,825 ha and the remaining 13,860 ha is protected Forest such as Terrain IV / Buffer Zone, Shifting Algriculture of the local community, water catchment, permanent sampling plots and High Conservation Value(s) area. It was classified as Permanent Forest (PF) under Linau PF and Balui PF, & adjacent to Bahau PF at coupe 1.Linau FMU area is divided into 25 coupes with sizes ranging from 1,234 ha to 5,933 ha.

The license T3228 was initially managed by Jebadi Sdn Bhd and was transferred to Diamond League S/B on 13 JUNE 2003. It was granted a forest logging re-entry/ harvesting license and managed by Shin Yang Trading Sdn Bhd. Commencing from year 2003 to 29 APRIL 2020 and Shin Yang Sdn Bhd is the harvesting contractor. The Linau FMU T3228 is located at Linau about 200 km east of Kapit town and 120 km South East of Belaga Town.
Figure 2: General Harvesting Plan for Linau T-3228
1.2 Ecological Background
Topography


About 90% of the Linau FMU made up of undulating to hilly land with slope of 5° to 35° (Terrain Classes II and III). The remaining 10% of steep slopes areas (Terrain Classes IV) are found within some coupes of FMU area as well as along the areas bordering Sarawak-Indonesia Border (refer Figure 2). The site has elevations ranging from 2,000ft to over 5,000ft above mean sea level (amsl)




Geology and soils:
The Linau FMU area consists mainly Skeletal soils and Red-yellow Podzolic soils. The other soil types within the FMU area are Gley soils, Podzols and Skeletal soil.


Natural forest types:


The FMU area was mostly covered by the mixed-Dipterocarp forest (MDF)




Precipitation:


Based on data recorded at Belaga Weather Forecast, the mean annual rainfall of the FMU is about 3,595 mm.




Local Community Settlement:


There is no any settlement found inside the FMU area, but there is a longhouse, namely Long Lidam, found adjacent the boundary of the license area. The ethnicity of Long Lidem villagers are Punan Busang , with population around 110 villagers.



1.3 Action Road Map of Collaboration Project with On- Going Project within Heart of Borneo:
| | | | | |
| --- | --- | --- | --- | --- |
| Year | Action | Expected Outcome | Time Frame | Expectation from HoBs |
| Aug, 2014 | Send Representatives to Attend HoBs Initiative at 4 point hotel. | Get vision From FDS regards the awareness of HoBs. | 1 Day | Get awareness among the FMU stakeholders the initiatives of HoBs Project. |
| March, 2015 | First Meeting with Director of Forests at FDS , Kch | Timeline plan in respect of FMU within the HoBs area to get certified in year 2017. | 1 Day | The effective plan designed by FMU within HoBs to preserve the sustainability of Hydrologic connectivity & riverine system, Ecotourism & Conservation, Community Livelihood and Wildlife Corridors |
| March , 2015 | Writing letter of commitment to Director of Forests by top Management | To lodge the timber concession area of Linau FMU T-3228 for Sustainable Forest Management Certification. | Long Term | Vision all timber concession area must practice sustainable forest management within HoBs |
| Nov, 2015 | Send Representatives to Attend HoBs Initiative at Four points hotel. | To study the practices of the successful projects within HoBs. | 1 Day | FMU stakeholders able to learn how to preserve the sustainability of Hydrologic connectivity & riverine system, Ecotourism & Conservation, Community Livelihood and Wildlife Corridors within HoBs from the various Forest Management Project. |
| Sep, 2016 | Engage the experts from SFC to conduct HCVF project within Linau FMU. | To identify and assess the attributes of HCVs within the Linau. | 2 weeks | FMU management plan the management and monitoring to ensure the found HCVs are sustained and preserved. |
| Jan, 2017 | Revise FMU Forestry Policy | Management commitment in Forestry Policy related to HoBs | Long Term | Top management to staffs level to commit to get Linau FMU (T- 3228) certified starting within HoBs to meet international recognized standards to preserve the integrity of the natural Forest Resources of Sarawak within the Linau PF of HoBs. |
| March, 2017 | HCVF Consultation Meeting with stakeholders at Green hotel , Bintulu | Consult the vested stakeholders within FMU to the findings of HCVF and plan of management and monitoring in future. | 1 day | Cooperation between the FMU & relevant stakeholders in preserving the attributes if HCVF found within the Linau PF in the HoBs area. |
| 2017 onwards | Uphold the MC & I ( Natural Forest) Standards & requirements PEFC Certification | To ensure the FMU forestry management in related to requirements of MC&I (Natural Forests) get certified and being maintained. | Long Term | FMU in HoBs to get certified and also to ensure its management can fulfil the requirements of best SFM practices. |
---
CHAPTER 2: FOREST RESOURCES ASSESSMENT
2.1 Forest Resources
Commercial Timber Stock:
In the FMU Inventory Results of No. of Commercial Trees/ha and Their Estimated Volume in m3 /ha for Individual PSP Sample Plots in Linau FMU (T-3228) for commercial tree with Dbh 30cm & Above .The FMU management also derive the tree basal area m2/ha through the enumeration of PSP as the measurement to describe and compare the growth and abundance of the trees in the compartment area. Area = Π (d/2)2. From the latest PSPs enumerations, the timber stocks proportionate of DBH classes for Linau FMU are;
Non- Timber Growing Stock (HCV Assessment ,Y.2016)
Small- sized rattan species locally known as Uwei mongo and Uwei selongo in the forest to produce baskets, hats, backpack and mats & Firewood ranks, Kayu Belavan (Tristaniopsis sp.) and Kayu Tekalit (Lithocarpus sp.)
Protected Timber Growing Stock (HCV Assessment,Y-2016)
Totally protected (TP) : only Ensurai ;
Protected (P): -Menggris, Ipoh, Entimau , Kara, & Lengkan Gaharu
Vulnerable (VU): - Lun runcing, Selangan Merah & Gaharu.
Endemic Flora Species (HCV Assessment ,Y.2016)
Endemic Flora Species : Kerdam Bukit, Luis , Urat Mata, Lun Runcing, Meranti Binatoh, Selangan Merah, Meranti Pasir, Resak Tangai Ungu, Empili, Putat , Segera, Pingan, Kakang, Kumpang, Ubah, Selunsur, Kawi, Nyalin, Rambutan Putih & Bayur ( Some endemic species may be commercially harvested in accordance to the state regulation).
2.2 Forest Zoning:
Licensee area is subdivided into three categories which are protection zones, community area and productive zones.
Protection Area:
Any area surrounded along by the permanent water course will be conserved as riparian buffer zone;
Permanent sampling plots as required by FDS for data analysis purpose;
A buffer zone of 1km wide along the boundary bordering the Sarawak-Indonesia International Boundary ;
Area identified as very steep slope (Terrain IV)as approved;
Area identifies as HCVF areas, and
Area related to the native community which is in mainly in use SA area of Long Lidem
Communal Area:
The area has been identifying as Shifting Agricultural which is reserved for the use of the local communities living in the vicinity of the forest area.;
Supply water for community of Long Lidem (Sg. Natong) and for workers of Linau Camp.
Production Area:
Operable area after exclude the Protection Area & Communal Area ;
---
CHAPTER 3: MANAGEMENT PLAN PRESCRIPTIONS
3.1 Management Objectives:
Selective removal of the old growth stands on a sustained yield basis in the FMU operable area;

Protection of the soils through proper planning for roads and harvesting method;

Regeneration and improvement of the forest by suitable silviculture techniques.

3.2 Cutting rule:
Prohibition of logging in MD terrain IV and along river and stream banks

Proper planning for road and skid trails

Gravelling of main logging roads and planting of fast growing and suitable cover crops in abandoned clearings

Imposing a higher diameter felling limit.

Proper planning of harvesting techniques to include directional felling and the FMU takes cognizance of the "Guidelines for Reduced and Law Impact Harvesting Systems" for ground based harvesting system using tractors and Cable Yard system to minimize impact to the soil and water value.

3.3 Cutting Limit:
The diameter-limit cutting are ≥ DBH 50 or 60cm dbh for Dipterocarp species and ≥ 45cm dbh for non-Dipterocarp species

Ensure that all species listed as Totally Protected under the Wild Life Protection Ordinance 1998 would not be felled.

3.4 Yield Regulation:
The area will be worked over a period of 25 years in one cutting cycle according to Policy Direction in Forest Management Certification in Sarawak.
Growth projections of the inventory data were made to determine when a compartment is likely to yield an economic harvest.

3.5 Simulation of AAC:
Based on the standard approach, that is, a combination of area, volume (from PSP results) and felling cycle and then deduct with the safety factor (E), Safety Factor (S) and 87% efficiency , AAC in this FMP is 88,649 m3.

3.6 Verification of AAC:
In order to control the harvestable area as stated in RILs Sarawak guidelines, a block will only be harvested when the commercial timber stand ( ≥ 45 cm for Non-Dipterocarp or ≥ 60 or 50 cm for Dipterocarp spp) exceed 22.4 m3 / ha in order to maintain the forest structure and to avoid excessive invasion of pioneer species.

The annual cutting area (ACA) to be controlled for Linau FMU T3228 is 2,353 ha/year and

total controlled volumes of harvesting logs to ensure sustainability is 52,707m³/year

3.7 Amendment / Revision of Management Plan :
Forest Management Plan (FMP) is valid for 10 years; however it will be reviewed by the management every five years.
---
CHAPTER 4: PLANNING OF FOREST ROAD & HARVESTING SYSTEM
Proper planning of roads and harvesting operation is of utmost importance for minimizing environmental impact from the FMU activities. A well-planned and constructed road network will enable forest harvesting operation to be carried out in a proper and economical way during the whole duration of the license and results in long-term economic benefits for the project. Logging activity at Linau FMU will be carried out mainly by the Reduced Impact Loggings (RILs) using Logfisher winch. Reduced Impact Logging (RIL) guidelines/procedures will be applied in this harvesting operation. The objectives of implementing these reduced and low impact harvesting systems is to reduce environmental impacts on the soil and water values.
---
CHAPTER 5&6: PRE-HARVESTING, HARVESTING & POST HARVESTING ACTIVITIES
5.1 System of Reduced Impact Logging (RILs) within The FMU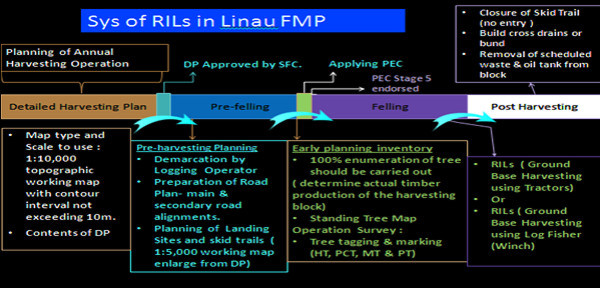 5.2 Schematic of Production Process within The FMU
The licensee will measure, number serially and mark all logs presented for royalty assessment. Measurement methods to be used are given in Section 96 of the Forest Ordinance. The licensee will submit a specification form to the Section Forest Officer listing the log serial number, species, log length, diameter and volume in cubic meter for each marketable log.
5.3 FMU Monitoring for the Whole Management Process
Pre- Harvesting Monitoring & Control


The Sarawak Forestry Corporation (SFC) will carry out inspection before and during the harvesting of an area by referring to the Procedure for the Inspection of Harvesting Areas, 1999. Pre-harvesting inspection.
FMU holder will establish Permanent Sample Plots (PSPs) for continuous annual monitoring (MAI) of stand growth through the measurement of the basal area, tree health status, and timber quality.
FMU holder will also collaborate with Consultant to carry out Environment Monitoring Report (EMR) to monitor social, ecological, environmental and economic impacts in process of development and intensity of forest plantation area.
Besides that, monitoring & assessment through yearly internal audit under indicator of MC & I (Natural Forest) will be carried out to make sure harvesting processes are operating effectively.



Harvesting Stage Monitoring & Control
Operation to ensure the operations are carried out in accordance with the approved block & RIL guidelines and to improve the quality of the future planning and implementation of harvesting operation. Assessment and monitoring is to be conducted by competence Internal Auditor who at least trained with MC &I (Natural Forest) requirements, together with a representative of the licensee to ensure;



the harvester fell and extract timber from approved block;
Harvest operations shall be carried out by registered RIL contractor (SYSB);
Make sure the harvesting machinery did not enter or cross the riparian area (buffer zone area),
terrain class IV and other protected area;
Highlight all areas of non-compliance to licensee or its representative;
Forward copies of the assessment reports to the Management Review as input for further Actions, and
Conduct further field inspection to verify the non-compliance of work activities have been completed to the desired standards.



Post- Harvesting Monitoring & Control


Closing block inspection carried up by SFC together with the FMU representative.
Diagnostic sampling of residual forests at certain intervals after harvesting is done as the need for silviculture treatment in an individual compartment or to check the exploitation factor by FMU holder.
Counting the PCT trees after the post harvesting to calculate the rate of exploitation and remain residual commercial tree stock.
Yearly Internal Audit is carried out to ensure all the operation in the FMU is following the MC&I (Natural Forest) requirements and approved FMP.
5.4 Rehabilitation is carried up after Post Harvesting Involves;
Rehabilitation of Protected area;

Rehabilitation of Feeder Roads and Closure;

Rehabilitation of Log Landings;

Rehabilitation of skid trails;

Camp condition & waste handling requires treatment if any in-compliance found (ref to Chapter 7);

Rehabilitation on the high disturbance area

.
---
CHAPTER 7: ENVIRONMENT IMPACT ASSESSMENT
There are three stages of potential impacts were identified, there are impact during preparatory stages; impact during Felling and Harvesting Stage; and impact during abandonment stages. As ref to Swk L.N. 45/94 , first schedule of prescribed activities (Articles 2,3 and 6) clause 2 regulates that for extraction or felling of timber from any area exceeding 500 hectares which was previously been logged, the FMU need to submit the EIA report to NREB for approval. In relation to this, the EIA of Linau FMU T 3228 has been approved by NREB Controller by 15th July 2009 and the FMU will continuously monitor the status of comply of mitigation of impacts by submitting the Environmental Monitoring Report (EMR) quarterly. Mitigation of impacts in EIA report is the stage to determine possible preventable, remedial or compensatory measure for each of the adverse impacts evaluated as significant. Various mitigation measures are proposed to be carried out to minimized or alleviate any negative impacts.
Mitigation Measures
1. Biodiversity
1.1. Conserve nesting and mother trees
1.2. Conserve of protection species and wildlife in general.
1.3. No hunting is allowed.
1.4. Logging operation shall be sensibly phased to allow wildlife to retreat into the adjacent forested area.
1.5. All roads that are not essential for access to other areas shall be closed as soon as the block is closed.
2. Forest Harvesting Operation
2.1. Strictly observe and comply all provisions of the Forest Ordinance and the Forests Riles related to logging.
2.2. The direction of felling shall avoid stream buffer and clumps of residual trees of commercial values.
2.3. The chainsaw operators shall be trained to fell trees in the right direction and keep away from rivers and streams.
2.4. The logging blocks in coupe shall be divided into groups to reduce disturbances and soil erosion.
2.5. Cutting through dense regeneration area should be avoided.
2.6. Branches and crown of a felled tree that hit a dense patch shall be removed.
2.7. Logs shall be debarked at the landing points away from the riparian buffer zone and during dry weather.
2.8. The logging block in a coupe shall be divided into four groups to reduce disturbances and soil erosion.
2.9. Adherence to cutting limits.
2.10. Care shall be taken to ensure that the flow in the latter is not obstructed while constructing or repairing the roads.
2.11. Very steep areas should be preserved.
2.12. These EIA approval conditions shall not be applicable to the closed coupes.
3. Control of Soil Erosion and Sedimentation
3.1. All provisions of the Forest Ordinance and the Forest Rules related to logging should be strictly observed and complied with.
3.2. All the engineering and environmental guidelines shall be adhere to while contrasting roads, landing and skid trail.
3.3. Adopt Reduced Impact Logging practice and techniques.
3.4. Ensure that the road grading work is not excessive during the repair of road within the coupe.
3.5. Repair and reuse the existing logging roads, care shall be taken that the flow in the latter is not obstructed in any way.
3.6. Construct earth bund at the lowest end to prevent erosion.
3.7. No entry to riparian buffer zone.
3.8. Work during dry weather.
3.9. Skidding the log across the stream shall be forbidden.
3.10. Adopt terraces and maintain the drains running between the road and the hillsides.
3.11. Construct silt trap.
3.12. Reserve buffer zones along the streams. No soil shall be pushed into any natural waterways and buffer zone.
3.13. No logging within the riparian buffer zone. The existing vegetation along the roadsides shall be left undisturbed.
3.14. Restricted the movement of the tractor and not allowed to range freely.
4. Protection of Water
4.1. Do not litter waterways with en-cut timber and other wood debris, rubbish and other solids. If any debris get into waterways accidentally, they should be removed.
4.2. Rubbish should be regularly collected and buried in an appropriate site away from the waterways.
4.3. Vegetative debris from trimming and debarking activities shall be neatly stacked and places away from watercourses.
4.4. Provide septic tank in accordance to the Environmental Quality (Sewage) Regulations, 2009.
4.5. Make sure proper disposal of sewage at the temporary camps in the logging blocks.
4.6. Set up proper facility to contain fuel, oil and grease residues from workshop and fuel depot.
4.7. Gravity-feed water supply catchment shall be marked and excluded from the logging activities.
4.8. Maintain the water quality at Class IIB of the NWQSW.
5. Waste Disposal Management
5.1. Proper garbage bins shall be provided in the logging camps/base camps.
5.2. Proper disposal of domestic wastes regularly collected and disposed off .
5.3. Fuel tanks shall be properly bunded. Fuel and hydrocarbon waste shall be properly managed and stored.
5.4. Proper dispose the construction and machinery wastes.
6. Public Health and Safety
6.1. Follow the guidelines issued by STIDC and relevant departments.
6.2. Appoint personnel to look after the safety and environmental issues.
6.3. The workers shall be well trained in carrying out their duties and on the equipment used.
6.4. Provide adequate insurance and SOCSO.
6.5. Basic medical kits shall be kept at the camp.
6.6. Ensure clean and reliable water supplies.
6.7. Provide structured health screening for workers.
6.8. Ensure no stagnant pools of water.
6.9. The base camp shall be kept tidy and hygienic and all time to improve the hygiene as well as the aesthetics of the License Area.
7. Road Safety and Traffic
7.1. Provide sign board and imposed speed limits. The junction shall be gravelled so as to provide the necessary traction for the heavy vehicle.
7.2. The haulage vehicles shall not be overloaded. Transportation of log shall be restrict to daytime only.
7.3. The logs shall be securely fastened, and very long log shall be trimmed to manageable lengths for transportation purposes.
7.4. Drivers shall be adequately educated on road safety rules and regulations.
7.5. Broke-down vehicles especially when loaded shall be removed as soon as possible. If they are to be left overnight, proper hazard lights and reflecting signs shall be posted to prevent other motorist from crushing into this potentially dangerous obstruction.
7.6. Good planning and co-ordination will reduce the frequency of delivery and therefore the number of trips. Transportation activities shall as far as possible be restricted to daytime.
7.7. All the vehicles and machinery used must be well maintained for optimum performance and to prevent accidents.
8. Socio Economic Consideration
8.1. The local people shall be given priorities in employment over imported labours. Foreign workers shall be used only when locals fail to fill the vacancies due to a lack in workers or expertise.
8.2. Incentive can be provided in form of better housing, amenities and services available to the workers.
8.3. Proper repatriation program for foreign workers at the end of contract.


---
CHAPTER 8: FOREST RESEARCH
The FMU will carry out survey in the FMU area both before and after harvesting.
8.1 RESEARCH IN ESTABLISHMENT OF PERMANENT SAMPLE PLOT (MEASUREMENT & RE-MEASUREMENT)
Permanent sample plots (PSPs) will be established in the FMU area to observe the behavior of the logged-over forest and the response of the residual forest stand to the opening of the forest canopy by logging. Besides that, establishment of the PSPs also to provide information on girth and volume increment (ref to 8.2) and timber mortality rates which will be used to determine the optimum length of felling cycle and most productive tree-size limits for application in the FMU area.
8.2 RESEARCH IN CONTINUOUS FOREST INVENTORY (CFI)
Linau FMU T 3228 management also concern that the year-by-year indications of wood harvests and comparisons with the AAC is being managed sustainably. In order to monitor the yield over a longer term, of at least 15 years, the model of mean annual increment MAI (m3/year) for the whole Linau FMU are derived for this period and should be balanced against the total harvest for the same period. In relate to MAI approach, the periodic and regular assessment of a forest is the most reliable method for determination of increment as;
Accurate mapping and CFI are able to provide reliable data on forest resources at the beginning and end of a planning period for which the MAI is to be derived; and
The total volume of removals (including logging waste losses) are derived from accurate records of volumes cut each year, supplemented with an estimate of waste determined through logging waste studies.
---
CHAPTER 9: SIVILCULTURE, FOREST REHABILITATION & REFORESTATION


The objective of silvicultural operations or forest rehabilitation is to improve / increase survival and growth of commercial local species and to ensure adequate stocking with commercial trees. The silvicultural methods focused by Linau FMU are release of natural regeneration; Liberation of Potential Crops Trees (PCT); and Enrichment Planting (EP).
9.1 DIAGNOSTIC SAMPLING AFTER POST HARVESTING
Diagnostic sampling of residual forests at certain intervals after harvesting is done as the need for silvicultural treatment in an individual compartment. Main criteria for selection is High disturbance from the previous harvesting operation; irregular, patchy regeneration conditions; commercial seedlings for planting available within the block; and easy accessibility by roads.
9.2 SILVICULTURAL DECISION SUPPORT SYSTEM (SDSS) IS BASED ON
Establishing the relationship between the actual commercial stocking situation and the number of big trees left behind.
3 decision steps in the FMU are:
Selection of compartments for silvicultural treatment ;
Selection of type of silvicultural treatment ; and
Priority ranking of selected treatment compartments, based on accessibility of roads.
9.2 MAINTENANCE
Factor of lack of light is the principle cause for the unsatisfactory growth of some enrichment plantings. Thus the continual maintenance is practiced after rehabilitation is done through;
During the first year after initial treatment, check the performance of the selected trees, saplings and seedlings at gradually extended intervals of 3,4 and 5 months, then carry out general weeding of the treated areas as necessary and replace any perished seedlings on the enrichment planting treated areas;
During the second year after the initial treatment , recheck the treated areas at 6 monthly intervals and carry out treatment as necessary;
During years 3 to 5 after initial treatment, recheck and treat the areas at annual intervals; and
Following the 5th year after initial treatment, random checks should be carried out at 5 years intervals. These checks can also be utilized to undertake growth measurements and calculations on the expected harvesting date
---
CHAPTER 10: WILDLIFE MANAGEMENT
The wildlife management objective in Linau FMU is to:
Ensuring threatened and endangered species receive special management to protect their presence in the future;
To reduce negative effects of logging operation to the wildlife;
Ensure appropriate training is available to staff so that compliance and enforcement actions are effective and meet the necessary standards.
Wildlife management in the FMU is fully conducted in the wildlife area such as Critical Temporal Use for Wildlife , Nesting &roosting sites, Feeding sites & Saltlicks. In relation to this, all the staff and worker involved in the FMU area had been given a briefing of protection of protected species; posters of protected species can be obtained from Sarawak Forestry Corporation (SFC) ; FMU management displays the posters at the conspicuous area such as entrance to critical sites, office and workers quarters; demarcation protected area such as fruit tree areas and saltlick area and FMU management has conducted regular Patrol to the Protected Areas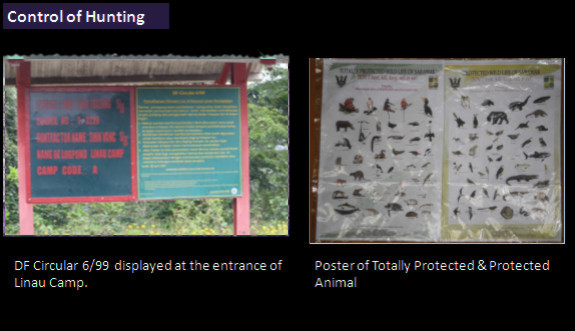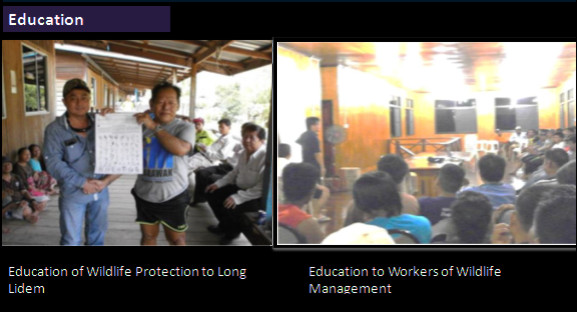 ---
CHAPTER 11: IDENTIFICATION & MONITORING OF PROTECTION AREA


The FMU maintains a significant number and area of the protection forests despites designation as a production forest. Some reservations were established to provide continuous supply of potable water to the base camps and longhouses, protect stream bank and provide sample of undisturbed or little disturbed forest stands on different types of terrain, soil and elevation in the FMU. The FMU practices the identification and management of protection areas as following the "guidelines/ procedure for identifying and demarcating sensitive areas for the protection of soil and water".
11.1 HCVs/HCVFs IDENTIFICATION & MONITORING
(a) HCVs/ HCVFs Identification
Sarawak Forestry Corporation (SFC) has been entrusted by Shin Yang Trading SB (SYSB) to conduct the HCVs/ HCVFs assessment at T3228 Linau FMU. The HCVF Toolkit for Malaysia (2009) was adopted by SFC for the identification and develop management recommendations. Assessment at T3228 on 19th September – 2nd October 2016 where the sub-teams assessed biodiversity, ecosystem service values, social and cultural values and they found that four (4) major values listed in the HCVF Malaysia Toolkit (2009) are present in Linau FMU T3228.
HCV 1

:

A significant number of HCV biodiversity species are present in the study area and its surroundings. signs of critically endangered (CR), endangered (EN), vulnerable (VU) and nearly threatened (NT) flora and fauna (HCV 1.2) observed during the assessment. Total of 34 fauna and 36 flora species were found to be an ERT species. There are 20 endemic fauna and 55 flora species found in the study sites (HCV 1.3). Areas for critical temporal use were also identified to be present (HCV 1.4).
HCV 2

:

The area is an important linkage between larger forest complexes as it surrounded by logging concession, Totally Protected Areas and Forest Management Unit (HCV 2).
HCV 3

:

Lowland and hill dipterocarp forest cover the whole area and this type of forest becoming rare and endangered as a result of the deforestation and degradation of it ecosystem (HCV 3).
HCV 4

:

The landscape of Linau FMU is undulating and steep areas with more that 35° slope recorded (HCV 4.1). To ensure that this value is maintained or enhanced, a river buffer prohibiting logging operations is required, and the size of the buffer depends on the size of the river or stream (HCV 4.2). Linau FMU is adjacent to Kayan Mantarang National Park, in Kalimantan side, which is separated by political boundary between Malaysia and Indonesia. The entire FMU is within HoB initiatives site, which connecting the TPA networks between Sarawak, Sabah and transboundary networks in Brunei and Kalimantan (HCV 4.3).
HCV 5

:

Result of the assessment for social and cultural values suggested HCV 5 is present as the Punan community of Long Lidem still depend on the forest area for their basic needs and economical source as Long Lidem located adjacent to Linau FMU.
HCV 6

:

No present in this FMU
(b) HCVs & HCVFs Monitoring
HCV 1.1:
The buffer zone should be periodical or regularly monitor and ensure the integrity of the buffer remain intact.
HCV 1.2:
Implementation record of entry by outsiders and incidents;
Any sightings of wildlife should be properly marked, mapped and kept for reference;
Monitor and record of wildlife caught or killed by hunters;
A long-term monitoring for all Totally Protected Plants and ERT species in the identified areas is to be practiced in order to understand their survival and regeneration; and


Internal Auditing be conducted on the RIL implementation.

HCV 1.3:
Long–term monitoring of the wildlife species is conducted;
Internal Auditing to be conducted on the RIL implementation; and


Proper documentation for the SPF records.

HCV 1.4:
Critical feeding, nesting and roosting sites are monitored on frequent basis for any activities;


Regular monitoring and checking should is conducted for the identified, recorded and mapped saltlicks;

HCV 2:


Connectivity of the river buffers along the main rivers as well as selected forested area linking the rivers, such as water catchment area, license boundaries, and ridges are taken into consideration in management plan before any logging operation take place.

HCV 3:


Monitor the population for Jaong palms and Ensurai trees in the FMU, to ensure the effectiveness of management prescription of HCV3 in the FMU.

HCV 4:
Dermacation of Class IV Terrain and buffer zones prior to submission of Detailed Harvesting Plan for Permit to Enter Coupe (if applicable);
The FMU will uses water analysis (lab test result) to monitor the health of the rivers through quarterly EMR to ensure the buffer zone is functioning and properly set up; and


FMU conducts periodically internal audit to ensure the integrity of the buffer zones and to ensure that the emergency response team to be alert and on standby all the time.

HCV 5:


FMU conducts periodically auditing to ensure the conservation area is no disturbed.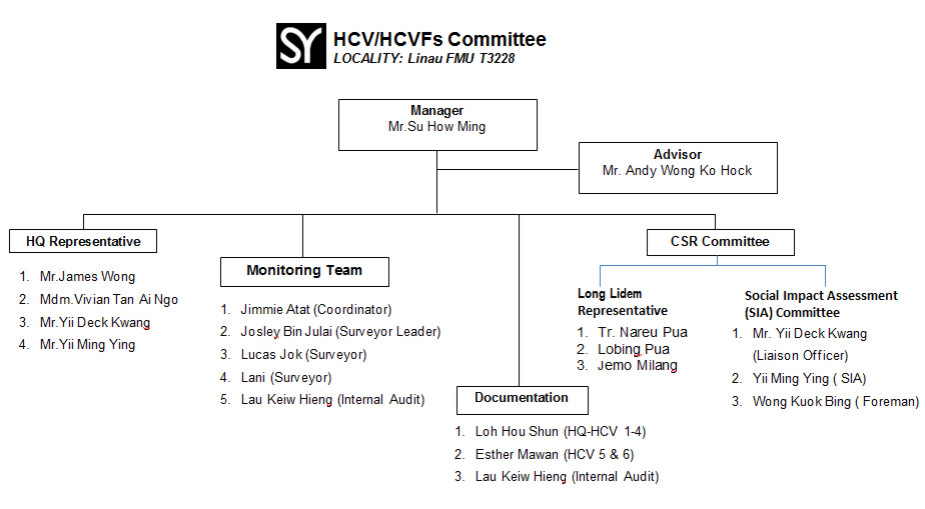 11.2 EDUCATION AND PREVENTIVE MEASURES
Majority of the communities and workers around the FMU acknowledge and accept the existence of the protection area (Stakeholder Consultation).
Awareness briefing to the staffs and communities

Establish and patrol the licence boundaries as well as demarcated protection area.

Internal Audit and Pre- Felling & Post Harvesting Inventory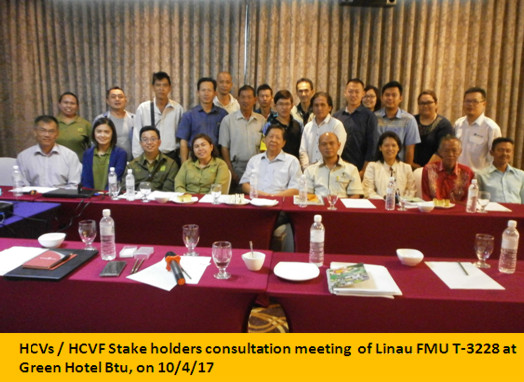 ---
CHAPTER 12: COMMUNITY DEVELOPMENT


Community development in Linau FMU is focusing in maintaining a balance between environment, economic and social objectives of the management of forest resources by
Better anticipation and management of an ever-expanding spectrum of risk regards to CSR issues;

Improved reputation of Shin Yang FMU sustainable forest management to the outsiders;

Enhanced ability to recruit, develop and retain staff;

Improved ability to attract and build effective and efficient supply chain relationships.

Enhanced operational efficiencies and cost savings; and

More robust "social license" to operate in the community



The Linau FMU Community Development Plan is using Plan- Do-Check-Improve- Cross Check approach and the consultation with Local Community is communicated with free, prior and informed consent to other parties.
12.1 SOCIAL IMPACT ASSESSMENT FINDINGS (Linau FMU SIA Report ,2017)
The only local communities live within and adjacent to Linau FMU is Long Lidem.
(a) Dependence of local communities on forest produce
Long Lidem villagers, their level of dependency on forest resources is very high, especially on forest products fall under food, handicraft, medicinal and tools' category. This is due to the fact that they do not plant paddy for almost 6 – 7 years. They collect jungle products, hunting and fishing almost every day to sustain their food supply apart from being given monthly allowances by the Linau FMU management company.

Handicraft making is their most important activity and most of them are made from rattan. Both men and women – young and old - are good in handicraft making. They used the small-75 sized rattan species locally known as Uwei mongo and Uwei selongo to produce baskets, hats, backpack and mats. Women play important roles in the handicraft making as they are the main collector of rattan canes. They usually collect rattan surrounding the area within 1 – 5 km distance from their longhouse, especially from the secondary forest and by the roadside. They sell the end products at Belaga town or at camps, both Linau Camp and Abit Camp.
Hunting is normally a non-seasonal activity and mostly done by men. Generally, hunting is more frequent during fruiting seasons as most animals will gathered surrounding the fruit trees and consumes the fruits. They usually hunt at the nearby forest areas, both within the Linau FMU and Danum FMU. They even hunt far from the longhouse area as transportation is easily available to transport the catch. Their main weapons are blowpipe and spear. Among the most caught wild games are wild boar (Sus barbatus), Kijang (Muntiacus sp.), mousedeer (Tragulus sp.) and Rusa (Cervus tricolor).

Apart from animals, fish also another source of protein in the diet of the community. Fishing activity is mostly being done by the men and among the main rivers visited are Sg. Kajang, Sg. Bahau, Sg. Kahai and Sg. Linau. Most of the catch is for own consumption. Among the usual catch is Semah (Tor tambra). The main fishing methods that they are using are cast net, hang net and bamboo trap (bubu).
Firewood ranks fourth importance as a resource as they have adapted to a modern lifestyle by using gas cooker. Majority of them are still relying on it due to the fact that they can't afford to refill the gas tank when it's empty. Firewood becomes a collecting in a daily activity and the most sought species are Kayu Belavan (Tristaniopsis sp.) and Kayu Tekalit (Lithocarpus sp.)
(b) Dependence of local communities on drinking water from Water Catchment Area
Water resource is also an important element that meets their basic need in term of providing them with clean water for drinking, cooking, washing and sanitation. There are two main water resources located within the Linau FMU. Therefore , the FMU has to ensure water resources are being demarcated and all the staffs are told not to encroach the water catchment area during operating at the area near the demarcated boundaries .
12.2 FMU LIAISON COMMITTEE MEMBER
In Linau FMU, Liaison committee is set up to handle the
Issues over tenure claims and use rights;
Conflicts pertaining to the recognition of the legal and customary rights of the local communities;
Measures threaten or diminish resources or tenure rights of the local communities;
Protected the sites with special cultural, ecological, economic or religious significance to the local people;
Long term social and economic well-being of forest workers and local communities;
Grievances and provide fair compensation in case of loss or damage affecting the legal customary rights or livelihoods of local people;
The use of the forests' multiple products and services to ensure economic viability with the environmental and social benefits; and
Monitoring of mitigation / enhancement measures after SFC conducting the social impact assessment.
---
CHAPTER 13: OCCUPATIONAL SAFETY & HEALTH
13.1 OBJECTIVES OF SAFETY AND HEALTH & OSH POLICY IN LINAU FMU
To improve the awareness of Occupational Safety & Health among the workers and employers, Shin Yang has established Safety and Health Committee in the FMU and is headed by the camp manager. There are representative for both management and employees' .According to OSHA section 13, the person in charge with safety and health or safety officer is appointed as a secretary for the meeting. The committee is to:
Facilitating co-operation between employers and employees to instigate, develop and carry measures to ensure safety and health of workers;
Assisting in developing health and safety policies ,procedures and systems for the workplace ;
Other functions agreed by the safety and health committee; and
Disseminate of safety and health matters and planning that had discussed to employees
OSH POLICY OF LINAU FMU is;
13.2 OSHA COMMITTEE AT LINAU FMU (T-3228) is SET UP TO;
Facilitating co-operation between employers and employees to instigate, develop and carry measures to ensure safety and health of workers;Assisting in developing health and safety policies ,procedures and systems for the workplace ;
Other functions agreed by the safety and health committee; and
Disseminate of safety and health matters and planning that had discussed to employees.
13.3 SAFETY PRACTICE PROCEDURES FOR LOGGING ACTIVITIES
The FMU management has developed a procedure for safety method to follow Guidelines on Occupational Safety and Health in Logging Operations that recommend on how to comply Occupational of Safety and Health Act 1994 that involve core activities such as tree felling, heavy equipment operation ,log skidding , accident reporting, emergency response plan and hazardous waste such as Safety Data Sheet (SDS).For scheduled waste , the procedure should contain on method of handling, labelling, transportation, consignment note and inventory record.
---
SUMMARY OF MONITORING RESULTS:
1. INTERNAL AUDIT & MANAGEMENT REVIEW
The Internal Audit was conducted on 16-18 March 2017 lead by Mr. Lau Keiw Hieng (Assistant Certification In Charge) and his audit team made up of 5 auditors and 1 auditor in training. Total of one (7) Opportunities of Improvement was raised and the OFIs are yet to be closed by the FMU. The records on Internal Audit shows the auditors are trained and all aspect Criteria & Indicator of MC&I was appropriately covered during the audit. The management review was conducted on 10 March 2017 chaired by Mr. Andy Wong Ko Hock (General Manager) and attended by higher management and managers, reviewing all aspect of operation and preparation for the next audit. The audit results are;
2. LEGALITY ASSESSMENT (STLVS P1- P5)
GFS has conducted the STLVS audit on 9-14 /1/17 in the FMU , Shin Yang Trading Sdn. Bhd. has complied with the Sarawak Legality Standard (Principles 1-4) as no non-compliance was identified during the assessment on 13th January 2017. Four minor gaps raised in previous assessments were adequately rectified by Shin Yang Trading Sdn. Bhd. Three observations were made by the audit team during this assessment .
Public Summary report :
http://www.gfsinc.biz/wp-content/uploads/2015/11/Summary-SY-Trading-T3228-STLVS-P1-4-Jan-2017.pdf
3. SOCIAL IMPACT ASSESSMENT
Shin Yang Trading has not conducted internal Social Impact Assessment but the EIA included evaluation of Long Lidem (Ethnic Punan Busang), which is the only longhouse near with the Linau FMU T/3228. Quarterly EMR submission also cover the evaluation of SIA while complete SIA has been implemented by the liaison committee in June 2017 and the results of assessment are covered in clause 12.1 in this public summary.
4. ENVIRONMENTAL MONITORING REPORT
The first quarter 2017 Environmental Monitoring Report (Ref #: NREB/6-3/2F/33) for January to March 2017 period was conducted on 19 FEBRUARY 2017. Based on the report, there were no issues found and the licensee was compliant with all the regulations set by NREB.
5. PEFC AUDIT
The summary of the organisation's forest management system compliance against the requirements of the MC&I (Natural Forest) and plenty issues of concern are raised. Linau FMU has taken the necessary corrective actions for the 'Issues of Concern' raised as these are the areas of concerns that could lead to non-conformity in Stage 2 Audit.
---
LINAU FMU FOREST MANAGEMENT CERTIFICATION AND ACHIEVEMENT
1. AWARD OF SARAWAK CHIEF MINISTER'S ENVIRONMENTAL AWARD CMEA 2015/2016
Shin Yang Sdn Bhd (Linau Forest Management Unit T 3228) has been awarded for outstanding achievement in 7th Sarawak Chief Minister's Environmental Award (CMEA) 2015/2016, with "MERIT " Awards , by the Chief Minister of Sarawak Datuk Amar Abang Haji Abdul Rahman Zohari Bin Tuar Datuk Abang Haji Open.
Awards Certificate: LIN/CMEA/15-16
2. ISO 9001: 2008 QUALITY MANAGEMENT SYSTEM & IQNET
Shin Yang Sdn Bhd (Forest Management Unit) has been issued with ISO 9001:2008 QMS certificates of compliance to ISO 9001:2008 which the validity period of the compliance from 25/3/2015-06/03/2018.
Certificate of Compliance: AR 2821
3. SARAWAK TIMBER LEGALITY VERIFICATION SYSTEM (P1-P4)
Shin Yang Trading with Linau FMU T 3228 has demonstrated compliance to the STLVS Principles 1-4 of the Legality Standard of Forest Management for Sarawak (STLVS P1-6 D05 Sep 2016) for the forest area T/3228 based on the assessment conducted in Jan 2017 and reported in document GFSS 024-002. This statement serves to define the due diligence requirements for legal compliance to the local Sarawak Legality Standard established based on Sarawak regulations related to forestry and timber processing and through local stakeholder consultation. The material harvested from this Forest Licensed area can be classified as Verified Legal (VL).
Audit Statement : LVS-022
4. PEFC CERTIFICATION
Linau FMU T 3228 has passed through the Stage 1 Audit and will proceed the Stage 2 audit by August 2017.
---
(I) PREFERENCES:

"CITES." CITES. N.p., n.d. Web. 13 Dec. 2016.

" Guidelines for Forest Management Planning." Guidelines for Forest Management Planning. FAO Forestry, n.d. Web. 13 Dec. 2016.
Guidelines for Forest Resources Assessment, Y-2014 Forest Management and Planning Division Forest Dept. of Sarawak (2014).
Procedures for The Inspection of Harvesting Areas, Y-1999 Sarawak Forest Department Wisma Sumber Alam Petra Jaya (1999).

Guidelines for Forest Conservation and Ecosystem Management, Dec-13 Sarawak Forestry Corporation (2013).

Conflict Resolution Guidelines for Sustainable Forest Management, Dec-13 Sarawak Forestry Corporation (2013).

Guidelines to Identify Endangered, Rare, Threatened or Protected Forest Tree Species in Sarawak, Oct-2013 Sarawak Forestry Corporation (2013).

Guidelines and Procedures for Enrichment Planting, Oct-13 Sarawak Forestry Corporation (2013).

Guidelines for Reduced and Low Impact Logging Systems in Forest Management Certification (Natural Forest) Area, 2nd- Ed. (2014).

Procedures for Pre-felling Inventory, Sarawak Forest Department Wisma Sumber Alam Petra Jaya. Print.
Guidelines to Implement 100% Enumeration of Harvestable Block/Coupe at Forest Management Certification (Natural Forest) Area in Sarawak, Forest Management and Planning Division Forest Dept. of Sarawak.

Sarawak, Forest Department. "PSP, RILs & Identification On Botanical Species." Training in Permanent Sampling Plot. Lambir National Park, Miri. 13-14 Sept. 2016. Lecture.
Malcom Demies, Ling Chea Yiing, NIckson Robi, Lily Sir, and Jacqualine Henry. High Conservation Value Assessment Report (Draft Ver.) for T3228 - Linau FMU. Rep. Draft ed. Vol. 01. Kuching: Sarawak Forestry Corporation, 2016. Print. Dec-16.
Lagan, Peter, Sam Mannan, and Hisashi Matsubayashi. "Sustainable Use of Tropical Forests by Reduced-impact Logging in Deramakot Forest Reserve, Sabah, Malaysia." Ecological Research 22.3 (2007): 414-21. Web. 26 Dec. 2016. http://www.deramakot.sabah.gov.my/PDF/drkt5.pdf.
Vanclay, J. K. 1989. "Modelling Selection Harvesting in Tropical Rain Forests. Journal of Tropical Forest Science " Vol. 1 (3)
END OF PUBLIC SUMMARY