SHIN YANG FORESTRY SDN BHD (418036-D)
FOREST PLANTATION MANAGEMENT PLAN
LPF/0018 Penyuan FMU
PUBLIC SUMMARY
1. Introduction
The project area is titled Penyuan Forest Plantation Management Unit (FPMU) which is part of LPF/0018 Penyuan Estate that commencing from 19th November 1999 to 18th November 2059. This FPMU is located between Sg. Maleh and Sg. Urun, 68 km southwest of Belaga Town in Belaga District, Kapit. Penyuan FPMU is mostly covered by logged over forest. A network of logging roads was built to cover the whole area within the project site which is presently used by the relevant timber licensees.
The project area covers an area of 22,105 ha. The approximate grid reference of the site is between latitudes 02o53'15.8" N - 03o02'29.0" N and longitudes 114o04'06.6" E - 114o25'22.9" E. Table 1.1 show the area breakdown of LPF/0018 Penyuan FPMU.
Table 1.1: Area Breakdown of LPF/0018 Penyuan FPMU
| | | | | |
| --- | --- | --- | --- | --- |
| Coupe No. | Gross Area | Plantable Area | Un-plantable Area | Natural Forest |
| | (Ha) | (Ha) | (Ha) | (Ha) |
| AP1 (A1) | 1,546 | 861 | 100 | 585 |
| AP3 (A3) | 5,298 | 3,143 | 169 | 1,986 |
| AT1 | 2,950 | 2,405 | 81 | 464 |
| AT2 | 2,982 | 1,932 | 0 | 1,050 |
| AT3 | 3,178 | 2,905 | 18 | 255 |
| AT4(1) | 3,615 | 3,315 | 25 | 275 |
| AP4 (AT4(II)) | 2,536 | 1,737 | 94 | 705 |
| Total | 22,105 | 16,298 | 487 | 5,320 |
The northern side of the project area is bordered by oil palm plantations of Samling Plantation Sdn Bhd and PASB Plantation Sdn Bhd. The west side of the project area bordered by Pusaka-KTS Forest Plantation.
Map 1: Locality Map of LPF/0018 Penyuan FPMU (In-Part).
Click here to enlarge the map.
2. Local Community
The local communities nearby project site are consisted of Penan and Kenyah ethnic. There are 15 settlements nearby project site. The people of the community practices distinctive social-cultural systems which stems on their native culture which was passed down from previous generations. Although they mainly speak their own language on daily basis, some of them are also conversant in other languages such as Bahasa Melayu and Bahasa Iban. The profile of the settlements are shown in Table 1.2
Table 1.2: Profile of the settlements
| | | | |
| --- | --- | --- | --- |
| No | Village Name | Head of Community | Ethnic |
| 1 | Long Telepeh | TR Baya Sipat | Penan |
| 2 | Long Balau | TR Ating Tajai | Penan |
| 3 | Long Ketuat | TR Adeh Usang | Penan |
| 4 | Long Perah | TR Besie Balan | Penan |
| 5 | Long Tengah (2) | TR Labang Uvat | Penan |
| 6 | Long Tengah (1) | TR Dang Lajang | Penan |
| 7 | Data Sengelang | TR Pait Awam | Penan |
| 8 | Long Apok | TR Jangan Bunyi | Penan |
| 9 | Long Sibau | TR Udau Tedong | Penan |
| 10 | Long Urun | TR Bisi Janea | Penan |
| 11 | Long Dulit Urun | TR Joseph Usang | Kenyah |
| 12 | Uma Pawa Long Urun | TR Eric William | Kenyah |
| 13 | Uma Badeng Long Urun | TR Asmidy Agau Lerang | Kenyah |
| 14 | Uma Badeng Jambatan Urun | TR Anthony Lerang | Kenyah |
| 15 | Uma Pawa Long Ai | TR John Ding | Kenyah |
3. Forest Management Plan
a) Management Objectives
The project focuses on the primary objective to continuously produce valuable timber for commercial purposes while committed to conserve our natural forest. Owing to the increasing demand in timber-based industry, we strive to provide quality timber especially for our downstream processing industry. With the establishment of planted forest, the pressure against natural forest for valuable timber resources will be minimized. The distinctive objectives of forest plantation management are as follows:
Optimum utilization of forest resources while ensuring ecological function
Regulation of harvest on a sustained yield basis
To reduce environmental impacts
To promote natural forest conservation, restoration and enhancement within FPMU
To maintain or enhance the long term social and economic well-being of workers and local communities
b) Management System
Forest plantation management is committed to Sustainable Forest Management (SFM) which is the process of managing forest plantation site to achieve one or more clearly specified objectives of management with regard to the production of a continuous flow of desired forest products and services without undue reduction in its inherent values and future productivity and without undue undesirable effects on the physical and social environments.
c) Tree Planting
Tree planting is to establish a uniform tree crops. Trees planting is generally to reduce the logging pressure of natural forest and to provide the timber production. The key factors to take care during tree planting are seedling handling, planting holes depth and root placement. Prior tree planting, site preparation is needed to improve the potential tree growth, survival and the uniformly of a crop to be planted. With the effort to prepare the site, the factors that limit tree growth such as poor drainage, weed competition and heavy slash are reduced.
d) Species selection
The major species planted in the FPMU are Paraserianthes falcataria (Kayu Batai) and Acacia mangium (Akasia). Other species such as Neolamarckia cadamba (Kelampayan) and Eucalyptus spp. are planted by trial basis.
e) Site Maintenance
Site maintenance is to ensure the survival rate and growth quality of the tree crops. Site maintenance practices that applied in the project site are supply planting and selective thinning.
f) Yield Regulation/Annual Allowable Cut (ACC)/ Cutting Limits
Since the LPF license is subject to tree planting project which includes clearing of the area, Therefore in order to achieve the sustainable basisi, the forest plantation yields/ ACC/ cutting limits will be determined and controlled by combination of several data such as PSPs growth monitoring, area size quota and actual harvest analysis.
The company is proposing 10 years cutting cycle, which is 7 years within the FPMU area and next 3 years will be moved to other coupes within the license area. The Annual Cutting Area (ACA) within the FPMU for a period of 7 years is 796.2 ha/year.
Estimated volume = 252.23m3/ha.
Estimated volume = 796.2 ha x 252.23m3 = 200,825.53m3.
g) Harvesting Plan
Harvesting will be commenced at 7 to 10 years after planting which replanting will be carried out for the next 10-year cycle excluding steep terrain, HCVs and protected areas. Reduced Impact Logging (RIL) guidelines/procedures will be applied in this harvesting operation. The objectives of implementing these reduced and low impact harvesting systems is to reduce environmental impacts especially on the soil and water values. The planning of roads maintenance, skid trails, and landings construction to minimize soil disturbance and to protect streams and waterways by referring to the:
Guidelines for Forest Road Layout and Construction
Procedures for Inspection of Harvesting Areas, 1999
Guidelines/Procedures for Reduced and Low Impact Harvesting Systems, 1999.
4. Harvesting Operation Prescription
a) Cutting Rules
i. Stream bank Buffer Reserves (SBR)
Permanent waterways with continuous flow of water throughout the year will be protected by a buffer zone (with clear demarcation from the stream bank with appropriate width by following DID, EIA's recommendation) and no activities will be permitted in this area.
ii. Reduced Impact Logging procedure
The management of forest plantation takes cognizance of the "Guidelines/Procedures for Reduced and Low Impact Harvesting Systems" applicable to its second cycle harvest operation and adapt limits and procedures.
b) Harvesting System
Harvesting will be carried out mainly by the ground-based operation using tractor or excavator by combination with Cable Yarder System to reduce impact especially to the soil and water values. A clear cut system will be applied for planted trees. Protection areas such as Terrain Class IV, buffer zones and HCVs are strictly prohibited from any harvesting activities.
c) Successive Replanting
After harvesting, successive replanting will be carried out in FPMU to continuously providing the timber sources. Replanting program will follow the federal and state policies on the forest plantation establishment and undergo the cycle include site preparation, planting and site maintenance.
5. Liaison Committee
In Penyuan FPMU, Liaison committee has been established in order to solve community related problems. The responsibilities of liaison committee are as below:
Issues over tenure claims and use rights.
Conflicts pertaining to the recognition of the legal and customary rights of the local communities.
Measures threaten or diminish resources or tenure rights of the local communities.
Protected the sites with special cultural, ecological, economic or religious significance to the local people.
Long term social and economic well-being of forest workers and local communities.
Grievances and provide fair compensation in case of loss or damage affecting the legal customary rights or livelihoods of local people.
The use of the forests' multiple products and services to ensure economic viability with the environmental and social benefits.
6. Environmental Impact
Environmental impact is specifically addressed by consulting with Natural Resources and Environmental Board (NREB). Environmental Impact Assessment (EIA) Report for the LPF/0018 forest plantation area has been approved by NREB under Reference Number: (7)NREB/6-11/72. Subsequently, Environmental Monitoring Report (EMR) has been produced and submitted to NREB every quarter for regular monitoring purposes. Recycling and disposal of scheduled wastes and regular monitoring of the planted areas are being implemented.
Scheduled wastes are to be packed and sent to a permitted scheduled waste storage area within Forescom Plywood mill compound. Those wastes will be disposed of accordingly to authority's regulations.
We are committed to minimize or avoid chemical applications onto our project areas. Strict control is emphasized especially on usage of harmful chemicals such as Type 1A, 1B under World Health Organization (WHO) classification and chlorinated hydrocarbon pesticides.
7. Forest Plantation Management Community
a) Objectives of Forest Plantation Management Community
The objective of Forest Plantation Management Community is to maintain a balance between all of the elements taken into consideration while handling the management of forest resources which includes environment, economic and social objectives.
b) Forest Plantation Management Community Services
Job Opportunity
· Locals community will be given priority to work for the plantation if they are willing to work based on their qualification and expertise.
Transportation
· Proper transport is made available by the company to ferry schooling children to the nearest schools and also transportation service for local community to their temuda or nearest town.
Road Maintenance
· Poor road condition will be repaired by the Forest Plantation Management if requested by the local community.
Other Community Service
· Provide the machinery (e.g Lipan & Kobelco) to help the local community if needed such as align the area to build longhouses or place to build padi huts
· Give donation for Festival purposes such as Gawai Festival and condolences of funeral
· Donation for school activities
8. High Conservation Value Forests (HCVFs)
The assessment of High Conservation Value Forests (HCVFs) within Penyuan FPMU was carried out by ECOSOL Consultancy Sdn. Bhd. based on HCVFs Toolkit Malaysia. The assessment was conducted on April 2015.
As a result of the assessment, HCV 1.1 was not present in the plantation area. There were sign of Endangered (EN), Critically Endangered (CR) or Vulnerable (VU) flora and fauna (HCV 1.2) observed during the assessment. There were 10 endemic species of flora and 3 endemic species of fauna found in FPMU (HCV 1.3). HCV 1.4 which served as critical temporal use for wildlife also observed within project area.
Although the surrounding of project area have been developed for tree plantation and oil palm plantation, the areas which served as an important refuge for wildlife still available. (HCV 2). HCV 3 was not present in the plantation area.
Terrain IV have been identified within the project area remains as an important watershed to the main rivers which helps to mitigate floods and provide clean water to Penyuan camp and nearby villages (HCV 4.1). To maintain and enhance this value, river buffer has been established and maintain according to DID/NREB guideline. HCV 4.2 has been identified in the project area and river buffer has been established to control and minimize erosion. Barrier of destructive fires also been identified in the project area (HCV 4.3).
A total 15 local community settlements are located adjacent to Penyuan Tree. The communities from the 15 settlements are depending on the forest resources available in the project area to meet their basic needs. One burial ground is found along a tributary of Sg. Penyuan.
Management of HCVs Areas:
Retain Terrain IV and other forest area such as water catchments and river buffers/wildlife corridors.
Establish and maintain wildlife corridors and rivers.
Plant food resources for animals in and around the wildlife corridors and river buffers.
Ensure that trees felled fall away from river bank buffers.
Maintain security post at the entrance of plantation camp.
Prohibit plantation workers from hunting.
Establish buffers for each salt lick.
Keep road and skid trail density to minimum to reduce environmental impacts.
Regular consultation with local Penan and Kenyah people who are affected by the forest operation.
Identify and mark the location of burial ground with the local people.

Monitoring of HCVs Areas:
Wildlife corridors and river buffers established and maintained.
Put up warning signs on hunting and posters on protected plants and animals.
Decrease the number of outsiders to enter the areas.
Initiation of environmental education programs.
Continuous village consultation.
Burial ground preserved.
9. Identification and Protection of Rare, Threatened and Endangered Species.
Rare, threatened and endangered species will be identified and protected by company.
All the involved individual including staffs and local community have been given briefing regard the protected species. Posters of protected species obtained from Sarawak Forestry Corporation (SFC) have been displayed at the strategic locations, nursery office, plantation village and local settlements.
The guidelines used for identification and protection of Rare, Threatened and Endangered species of flora and fauna are:
a) Wildlife Protection Ordinance, 1998
b) Sarawak Plant Red List
c) A master Plan for Wildlife in Sarawak, 1996
d) HCVF Toolkit for Malaysia
e) The IUCN Red List of Threatened Species at www.iucnredlist.org

10. Environmental Safeguard based on Environmental Assessment
Water quality monitoring will be carried out quarterly to ensure that the water used by plantation inhabitants as well as the local communities are in good quality.
11. Results of Monitoring and Assessment
a) Growth of Planted Forest
Growth rate of fast growing planted species is approximately 2 - 3 cm per year in DBH and 2 - 3 m per year in height.
The growth rate is monitored by Permanent Sample Plots (PSPs) established within FPMU.
b) Composition and Observed Change in Flora and Fauna
Due to the nature of the License for Planted Forest (LPF), plantable area will be basically cleared except for protection areas such as Terrain Class IV area, buffer zones, HCVs, protected trees etc.
Therefore some of natural species in the plantable area seems missing from site, although in protected areas, species genetic resources can be conserved.
For wildlife, animals such as wild pig, deer, squirrels, hornbills etc still can be seen within project area.
c) Environmental and Social Impact of Forest Plantation Operation
Forest plantation activities bring some environmental and social impacts to the areas. The water quality in the area have been affected by the forest plantation operation and other adjacent land uses. With that, quarterly water quality monitoring have been done to ensure the water used by the plantation inhabitants and local communities are in good quality. The operation also give some impacts to the socio-cultural life. However, the company has provided several services to the local communities such as road maintenance, transportation services and donation for school activities etc. On other hand, local communities have received long term benefits from the operation such as the provision of more jobs and better infrastructures to improve their quality of life.
12. Collaboration and Research
Several studies and research activities were carried out within the project area, particularly with collaboration of Sarawak Forestry Corporation (SFC) and University Putra Malaysia (UPM) under MoU signed in 2012. The collaborations includes:
a) R&D on nursery, tree plantation and reforestation
b) Nursery practices
c) Biological control
d) Silvicultural practices
13. Budgetary
Forest Plantation Annual budgetary and costing includes all expenses of plantation development such as nursery, land preparation and site planting, infrastructure, forest maintenance, natural conservation, research and development (R&D) and social community.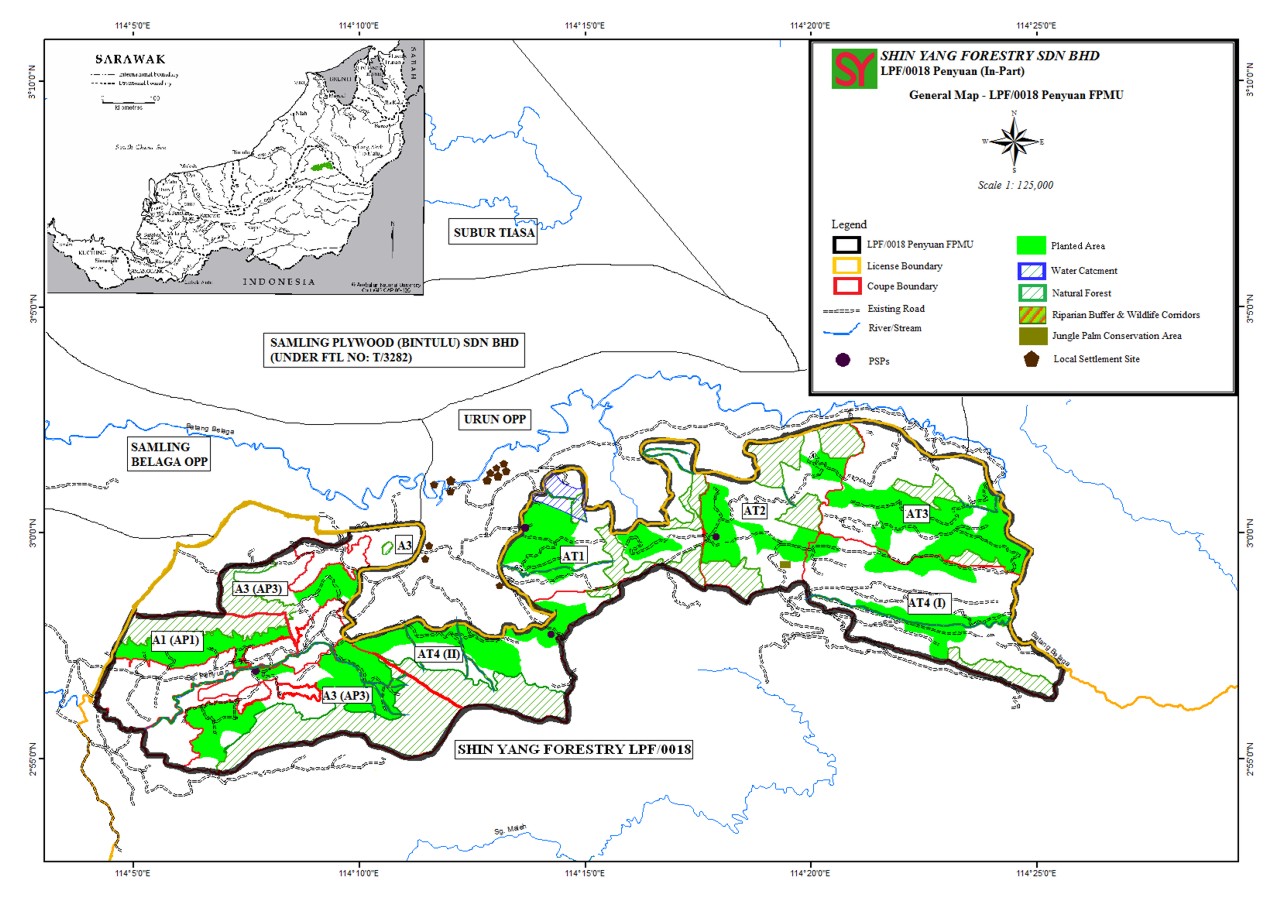 Map 2: General Map of LPF/0018 Penyuan FPMU (In-Part) - Protection Areas, Planted Areas and Location of Local Settlement.
Click here to enlarge the map.